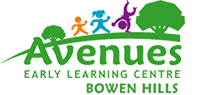 To enrol your child please contact our centre director to arrange an orientation meeting.
Centre Contact
Avenues Early Learning Centre – Bowen Hills

Address: 30 Jordan Terrace Bowen Hills

Phone: (07) 3852 4666

Email: bh@avchildcare.com.au

Avenues Early Learning Centre Bowen Hills is a multi – level purpose built centre that boast it's own  music/dance studio and Library with computers for children to access.

Bowen Hills is a 150 place centre staffed with mature, qualified and well experienced professionals, many of which are bi-lingual to assist with settling in children from many different backgrounds and cultures.
Operating hours and Service information
7.00am to 6.00pm Monday to FridayClosed on gazetted public holidays.Long Day Care catering to children from 6weeks  to School aged
Services Provided
Government approved Kindergarten program run by a registered Early Childhood Teacher
Koda'ly Music, Mandarin and Raw Arts Extra Curricular activities included in your fees
Interactive whiteboard in Kindergarten room
Computer programs from 3 years

Literacy Program as part of the Kindergarten program
Nutritious hot and cold meals prepared by qualified chef on a rotating monthly menu
Nappies
Sunscreen
Extra Curricular Activities
Included in FeesSpecialised Early Childhood Music Program taught by Kodaly trained teacher. (Monday)Language immersion program taught by our qualified in-house Mandarin teacher, which is tailored to link with the daily classroom program. This program is offered to all children aged 3 years and over 4 days a week. (Tuesday-Friday)

Specialised early childhood art program with an in house Art teacher for children aged 3 years and over. (Tuesday-Friday)




Additional Cost to Parents:

Monday: Tennis

Wednesday: Soccer, SuperKidz

Thursday: SuperKidz

Friday: Shake Dance

Friday: Cricket and Rugby
Calendar of Events
January 2014Friday the 22nd Australia Day – Wear your green and gold

March

Friday 21st

John Briggs Indigenous Culture Show

Harmony Day

25 – 27th March

Photo Days

April

Tuesday 22nd

Earth Day

May

Friday 9th

Mothers Day Pampering Morning

JuneWednesday 11thWild Rangers Wildlife Encounters

Monday 30th

International Mud Day

July

6-13th July

Pajama Day

August

Friday 15th

Hello Africa (2)

September

4th September

Fathers afternoon – Theme Dad's a Rock Star!

OctoberThursday 2ndWorld Animal Day

Thursday 16th

World Food Day – let's plant a vegie garden – Eat local, feed global!

Wednesday 29th  (late afternoon)

Avenues Art Show

November

Thursday 20th

Koala's Graduation

December

1st week of December TBA

Xmas party