Centre Contact
Avenues Early Learning Centre – Bowen Hills


Address: 30 Jordan Terrace, Bowen Hills, 4006
Phone: (07) 3852 4666
Centre Manager: Chanelle Stacey
Email: bh@avchildcare.com.au
Our centre at Bowen Hills provides high quality education and care to children aged 6 weeks to five years from 7am to 6pm.
We have a modern purpose built centre in the inner city with 3 large open aired outdoor playgrounds, spacious indoor learning environments, additional dance and music studio, construction room and outdoor atelier.At Avenues Bowen Hills we:
Offer a high quality Government approved Kindergarten program taught by qualified registered Early Childhood Teachers. Our Kindergarten programs have a strong focus on literacy and numeracy to provide children with a strong foundation before entering Prep.
Have a specialised early childhood music program delivered weekly by a Kodaly trained teacher. Offer a language immersion program through our qualified in-house Mandarin teacher, which is tailored to link with the daily classroom program. This program is offered to all children aged 3 years and over 4 days a week.
Have a specialised early childhood art program with an in-house Art teacher for children aged 3 years and over 4 days a week.
Employ a qualified chef who prepares fresh meals daily, catering for children with varying dietary needs in our 5 star rated kitchen. Offer a variety of extra-curricular activities taught by qualified and experienced coaches. Classes include soccer, rugby, tennis, dance.
Operating hours and Service information
7.00am to 6.00pm Monday to Friday
Closed on gazetted public holidays.
Long Day Care catering to children from 6weeks to School aged.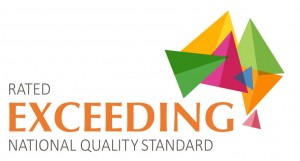 Services Provided
Government approved Kindergarten program run by a registered Early Childhood Teacher
Koda'ly Music, Mandarin and Extra Curricular activities included in your fees
In house art teacher
Interactive whiteboard in Kindergarten room
Computer programs from 3 years

Literacy Program as part of the Kindergarten program
Nutritious hot and cold meals prepared by qualified chef on a rotating monthly menu
Nappies
Sunscreen
Extra Curricular Activities
Included in Fees
Specialised Early Childhood Music Program taught by Kodaly trained teacher. (Monday)
Language immersion program taught by our qualified in-house Mandarin teacher, which is tailored to link with the daily classroom program. This program is offered to all children aged 3 years and over 4 days a week. (Tuesday-Friday)
Specialised early childhood art program with an in house Art teacher for children aged 3 years and over. (Tuesday-Friday)
Additional Cost to Parents:
Monday: Tennis
Wednesday: Soccer, SuperKidz
Thursday: SuperKidz
Friday: Shake Dance
Friday: Cricket and Rugby
Calendar of Events
January
25th – Australia Day – Dress UpFebruary
14th – Valentines Day – Wear Red
March
2nd – Dance Along Fit and Healthy Show
3rd – Clean Up Australia Day
21st – Harmony Day – Orange Day
April
2nd- International Children's Book Day – Bring your Favourite Book
3rd – Henny Penny Hatching
12th – Crazy Hair Day
25th – ANZAC Day
May
12th – Mother's Day – Afternoon Tea
25th – Favourite Colour Day – Wear your favourite colour!
June
5th – World Environment Day
8th – Lah Lah Live Music Show
24th – Red Nose Day
29th – International Mud Day
July
2nd – NAIDOC Week
22th – Winter Wonderland Day
17th – Pajama Week
28th – Plant a Tree Day
August
4th – Teddy Bears Picnic
19th – International Photo Day
22nd – Music Man Show
September
1st – Fathers Day BBQ
6th – Educators Day
8th – Grandparents Day Morning Tea
19th – Talk like a Pirate Day
October
4th – Taco Day
12th – Funky Sock Day
28th – Day for Daniel
31st – Halloween
November
6th – Recycling Week
20th – Hawaii Day – Water Play Day
December
8th – Kindergarten Graduation
9th – Centre Christmas Party