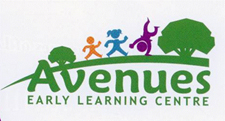 To enrol your child please download
enrolment forms

on the home page and contact our centre director to arrange an orientation meeting.
Centre Contact
Avenues Early Learning Centre


Paddington Address: 123 Kennedy Terrace Paddington, QLD, Australia
Enquires phone: (07) 3703 3901
Email: paddington@avchildcare.com.auAvenues Early Learning Centre Paddington is purpose built but still keep its charm of the original historical church that makes up the basis of the centre structure. The centre that will boast it's own music/dance studio and Library with computers for children to access. Paddington will be a 140 place centre staffed with mature, qualified and well experienced professionals, many of which are bi-lingual to assist with settling in children from many different backgrounds and cultures.
Operating hours and Service information
7.00am to 6.00pm Monday to Friday Closed on gazetted public holidays.Long Day Care catering to children from 6weeks to School aged
Services Provided
Government approved Kindergarten program run by a registered Early Childhood Teacher
Koda'ly Music, Mandarin and Raw Arts Extra Curricular activities included in your fees
Interactive whiteboard in Kindergarten room
Computer programs from 3 years

Literacy Program as part of the Kindergarten program
Nutritious hot and cold meals prepared by qualified chef on a rotating monthly menu
Nappies
Sunscreen
Extra Curricular Activities
For an additional cost you enroll your child into the following classes that run weekly at the service
Soccer
Hip Hop and Jazz Dance Classes
Piano Lessons (group and Individual)
Tae Kwon Do
Calendar of Events
February
TBAMarch
TBAApril
TBA
May
TBAJune
TBAJuly
TBAAugust
TBA
September
TBAOctober
TBANovember
TBADecember
TBA